Press Conference Announcing the Appointment of Hai Qing as the Spokesperson for Van's Department Stores
Mar 22,2011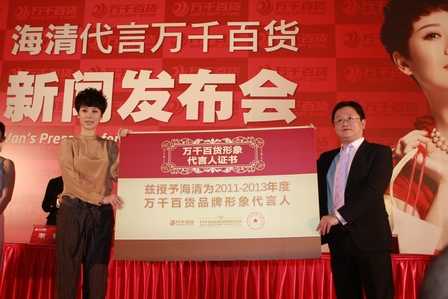 On 21 March, the "Press Conference Announcing the Appointment of Hai Qing as the Spokesperson for Van's Department Stores" was held at Pullman Beijing West Wanda. As a well-known TV and movie star, Hai Qing was awarded the certificate of image spokesperson for Van's Department Stores by Mr. Wang Feng, Deputy General Manager of Van's Department Stores, and becomes the official image spokesperson for Van's Department Stores. Reporters from over 50 well-known media and numerous celebrities from the fashion and entertainment businesses were present to jointly witness this memorable moment.
From the decisive and bold Zhong Ning in the "Jade Goddess of Mercy", to the pungent Anna in "Anna and the King", and the saucy Mao Dou Dou in "A Beautiful Daughter-in-Law Era", Hai Qing manages to touch the audience in different ways through the different characters she portrays, and her on-screen image as the "national daughter-in-law" is particularly popular. When asked the reason for choosing Hai Qing as the image spokesperson, Mr. Wang Feng, Deputy General Manager of Van's Department Stores, said, "Our reason for choosing Hai Qing is mainly because her excellent image and friendly personality dovetail with the brand requirements of Van's Department Stores. Different from traditional department stores, Van's Department Stores wants to become an enterprise breathing of human life and energy. We also hope that more people will go into Van's, so Van's can become part of your lives."
On that day, a series of 10 colourful "Van's Hai Qing models" developed from Hai Qing's 10 original glamour shots, became the highlight of the event. Among the 10 models, some are sweet and saucy, some gentle and elegant, some independent and bold, representing Hai Qing's outstanding capabilities in portraying multiple characters, while at the same time, reflecting Van's multi-faceted, integrative nature, bringing different sensual and emotional experience to their customers, just like Hai Qing. This set of models will be displayed successively in the 27 Van's Department Stores, representing the collaboration between Van's Department Stores and Hai Qing. What is worth noting is that, on that day, the new seasonal image advertisement starring Hai Qing was previewed during the press conference, in which Hai Qing appears in her popular "daughter-in-law" image. Through her interpretation, Van's is personified into a warm and caring family.
Van's Department Stores has always strived to bring a healthier, more sophisticated, happier lifestyle to consumers, in order to uphold its corporate philosophy, "Making life more wonderful". As such, Van's has been very well received among consumers. It is expected that Van's brand name, as interpreted by Hai Qing, will be further enhanced among Chinese consumers.