Leaders of the Ministry of Science and Technology Visited Wuhan Central Cultural Zone
Nov 18,2011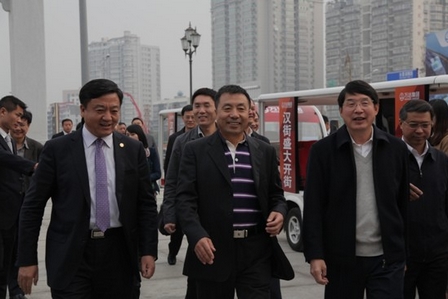 On 14 November, Party Member of Ministry of Science and Technology (MOST) and Chairman of Science and Technology Daily, Wang Zhixue visited Wuhan and toured Chuhehan Street accompanied by Head of Wuchang District of Wuhan, Wu Zhizhen.
At 4:30pm, Chairman Wang Zhixue arrived at Quyuan Plaza, Chuhehan Street. In front of the city plan of the Wuhan Central Cultural Zone, Chairman Wang learned about the geographical location and project planning of Chuhehan Street, and the major project connecting the 6 lakes in Wuhan, Chuhe, in great details.
Chuhehan Street has a distinct architectural style. It mainly consists of architecture in the style of the 1920s, with stylish modern architecture and European architecture scattering among it, blending then and now, Chinese and Western, like a modern version of the Ching Ming Scroll. Chairman Wang was very interested, and walked all the way along the Chuhehan Street. Chairman Wang praised that this Chinese street of the future as not only a shopping paradise, but also a place to appreciate architecture, learn about the styles of international brands, and appreciate all sorts of brands. After shopping and enjoying delicious food, one can also appreciate the art and photography works in the art museum. Not only can one taste the most stylish lifestyle, but also experience the charm of art and culture.