Leaders of Hebei Province Visited Shijiazhuang Yuhua Wanda Plaza
Nov 18,2011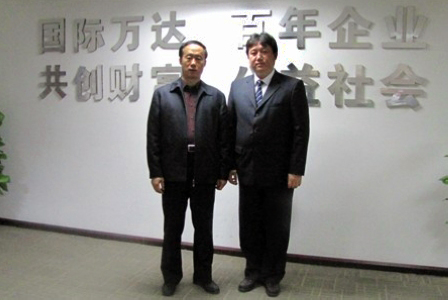 On 14 November, Deputy Governor of Hebei Province, Song Enhua, led the major leaders of the offices of Hebei Province and Shijiazhuang Urban-Rural Construction with over 3 years' of experience to visit and study Shijiazhuang Yuhua Wanda Plaza.
Deputy Governor Song Enhua led his team to visit Shijiazhuang Yuhua Plaza, the Pedestrian Street, Intercontinental Hotel, and residential homes in careful details, and made detailed study of the development cycle, planning standards, and operational features of the project. Afterwards, Deputy Governor Song also observed the office of Shijiazhuang Wandea Investment Co., Ltd. and found out about the number of employees, division of labor, and the building of corporate culture of the company. He was duly impressed by the development of such a large city complex as Shijiazhuang Yuhua Wanda Plaza with 55 employees.
At the site, Deputy Governor Song hosted a conference to ask the three main Change Offices of Hebei Province to conclude the study of Shijiazhuang Yuhua Wanda Plaza's contribution to elevating the quality of the city and facilitating regional development. Deputy Governor Song highly rated Yuhua Wanda Plaza's contribution to the municipal city over 3 years, and fully acknowledged the premium impact of the efficiently-built Wanda Plaza. He concluded that Wanda Plaza focused the use of land and improved the city landscape, it created landmark architecture and elevated the quality of the city, it perfected the functions of the city, and raised its loading, and that it centralized regional value and created new points of growth for the city. Yuhua Wanda Plaza is a great example to the urban and town building over 3 years in Hebei Province.