Quan Zhezhu Visited Wuhan Central Cultural Zone
Nov 18,2011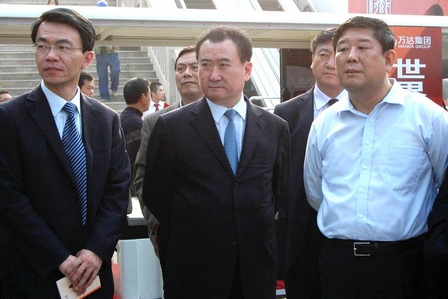 On November 17, Wang Jianlin, Member of Standing Committee of the National Committee of the CPPCC, Vice-chairman of National Association of Industry and Commerce, and Chairman of Wanda Group, accompanied Quan Zhezhu, Deputy Minister of the Central United Front Work Department of the CPC Central Committee and Party secretary of National Association of Industry and Commerce to pay a visit to Chu River and Han Street in Wuhan Central Cultural Zone.
At 2:30 in the afternoon, Deputy Minister Quan and his entourage arrived at Wuhan Central Cultural Zone. Deputy Minister first came to the entrance of the Han Street and listened attentively to the overview of the Wuhan cultural projects and the overall planning. Mr. Quan also inquired about details about the project. Chairman Wang introduced him about the overall framework of the Dadong Lake Ecological Water Network in Wuhan City.
After that, Deputy Minister Quan and Chairman Wang went on to the Chu River and Han Street to visit the cultural and art stores. They first went to the Parsons Music. Staffs introduced Deputy Minister Quan about the distinctive features of pianos in the shop and gave detailed updates about the home-made pianos. Mr. Quan gave highly favorable comments about quality home-made pianos and expressed his wish for seeing more quality products. Then Mr. Quan went to Zhenggang Art Gallery for a tour. He took some time to review and appreciate the art in the gallery. He also asked about the architecture style of the gallery and nodded his head to show approval. After that, Mr. Quan went to Wenhua Bookshop, the largest one in Hubei Province. Mr. Quan had a tour in the bookshop and took some time to read some best-sellers and specialized books.
Finally, Chairman Wang accompanied Deputy Minister Quan to the cruise wharf. They got on a sightseeing cruise and enjoyed the layout on both banks of the Chu River from a vantage point. While on the cruise, they also learned about the setups on the cruise on Donghu, Shahu and Chu River, and the tourism along the rivers.
After the sightseeing, Mr. Quan highly commended the project of the Chu River and Han Street. He noted that Wuhan Central Cultural incorporated tourism, commerce, business and living purpose with cultural essence, and gave new meaning and vigor to the city as it carried on the traditional culture.