Warm Response to the Sale of the Putian Wana Plaza Residents Phase I
Nov 18,2011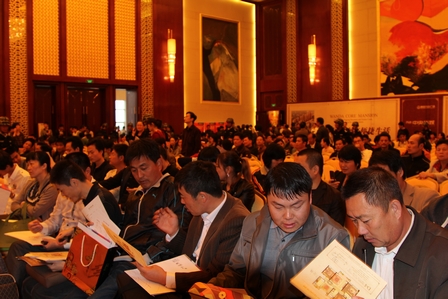 On 16November, Putian Wanda Plaza "Central China City" Residents Phase I opened for sale, breaking open the stagnant housing market in Putian. The rave of buying homes became the hottest topic in Putian residents' conversations, and attracted more and more attention. The hot sale of the homes achieved complete success.
In the early morning of the day, there were already many people hovering around the entrance of the hotel where the sale was held. Customers that have confirmed a place entered the great hall to wait for choosing their home after confirmation of identity. Although security officer have repeatedly requested customers to follow the rules and choose their home in order, as soon as the selection process started, the heat in the room was still unexpected. Every customer fought for their home as soon as they entered the selling area. Even one moment's hesitation meant that their dream home would be snatched by someone else.
Since the second half of this year, the housing market in the country has been sluggish. The golden rule of "Golden September, Silvery October" was broken. "Copper September, Iron October" has become the true reflection of the housing market in the autumn of 2011. Home buyers are still observing and are reluctant to make a decision. Nevertheless, the attraction of Wanda's strong city complex and high-quality properties still made it hotly pursued under such circumstances, injecting fresh life into Putian's housing market.