Launch of the "A date with Santa from Finland at Wanda Plaza"
Nov 22,2011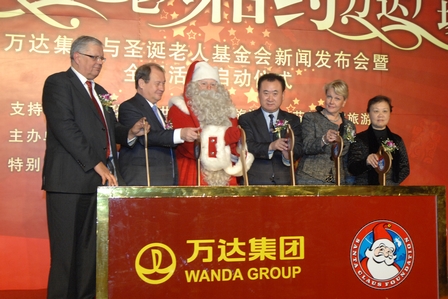 In the afternoon of 22 November, the press conference and the national opening ceremony of "A date with Santa from Finland at Wanda Plaza", jointly organized by Wanda Group and the Finland Santa Claus Foundation, was held at the Beijing Wanda Sofitel Hotel. Santa Clauses from Finland will interact with local residents at 29 Wanda Plazas in 21 cities across the country, allowing Chinese people to experience the Christmas culture and the original flavors of Finland. The Deputy Chairman of the National Tourism Administration Du Yili, Chairman of the Finnish Tourist Board Jaakko Lehtonen, Chairman of Wanda Group Wang Jianlin, and Secretary of Finland Santa Claus Foundation Pekka Pikanen attended the ceremony.
Finland is the only home to Santa Claus acknowledged by the United Nations. There are only 50 Santa Clauses registered globally. Every Christmas, Santa Clauses in Finland's Santa Claus Village travel to the world to spread the blessings of love. "A date with Santa at Wanda Plaza" has been held successfully for the past two years. In 2009, Wanda Group and the Finland Santa Claus Foundation collaborated at Nanjing Jianye Wanda Plaza for the first time. In 2010, both sides upped the game and collaborated at 15 Wanda Plazas in 11 cities across the country. In 2011, both sides further enhanced their collaboration. The increasing collaboration between Wanda Group and the Finland Santa Claus Foundation strongly pushes the cultural exchange between China and Finland forward.
As part of this year's activity, Finland Santa Claus Foundation will invite children from China to visit the Santa Claus Village in the Arctic Circle for the first time. To this end, Wanda Group has been hosting the selection competition "Chinese children go to Finland" at Wanda Plazas across the country since November. In nearly a month's competition, based on criteria such as the child's presentation, talents, and communications in English, the lucky child Feng Wenhao from Xi'an won the opportunity to represent Chinese children to visit Finland's Santa Claus Village.
Wanda Plaza is the top brand of China's commercial real estate. As of 2011, there are 49 Wanda Plazas in business. It is the most numerous, of the largest scale, and the most influential of the country's commercial and living centres. Wanda Plaza offers shopping, leisure, entertainment, restaurants and catering, and is everyone's one-stop shopping destination. Every day, a few million customers visit Wanda Plaza to spend. The collaboration between Finland's Santa Claus and Wanda Plaza enriches the cultural offering of Wanda Plaza, making it even more attractive.