Wanda Plaza Donates RMB52.16 Million to Help Vulnerable Groups
Nov 22,2011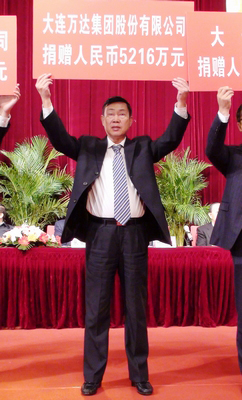 On 21 November, the ceremony to mark the launch of the "2011 Dalian Charity Month" and the signing and donation of the new "billion" charity foundation took place. Over 30 caring enterprises, units, and individuals, including Wanda Group, donated enthusiastically. A total of RMB252 million was raised at the event. Wanda Group donated RMB52.16 million to help vulnerable groups in society at this chartable event.
The annual Dalian Charity Month activity is a large-scale municipal-wide publicity and educational activity to promote charitable acts approved by the Dalian Municipal Committee and the municipal government. Since the establishment of Dalian Charity Association in 2004, this event has been held successfully seven times. It is the eighth this year. The theme of the "2011 Dalian Charity Month" is "Charity warms up Bincheng".
Wanda Plaza makes "create wealth together and give back to society" its corporate mission. For 24 years, Wanda Group donated over RMB2.8 billion in cash to charitable causes in society, and has given the one of the largest donations among Chinese private companies. Wanda Group has won the Chinese Charity Award for 5 times, and is the only company in the country to have won the award for 5 times. In 2011, Chairman Wang Jianlin topped the "2011 Forbes China Charity List" with cash donation of RMB1.28 billion, and was honored as the most charitable man.