Qingdao Wanda Meridien Hotel Won the Best Guest Experience Hotel Award
Dec 02,2011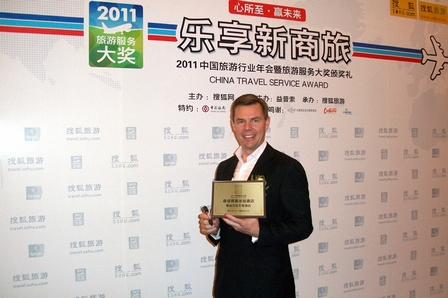 Mr Ning Siyuan, General Manager of Qingdao Wanda Meridien Hotel, attended the ceremony
On November 29, the "Heart to win the future - 2011 China Tourism Annual Conference cum Tourism Services Award Presentation Ceremony" was held in Beijing. Qingdao Wanda Meridien Hotel won the "Best Guest Experience Hotel Award". This is the second time that Qingdao Wanda Meridien Hotel has received this award within two years since opening.
"The Tourism Service Award 2011" were initiated by Sohu Tourism in tandem with the world's leading tourism market research group Ipsos. The poll lasted more than two months, bringing a total of 209 enterprises and institutions as shortlisted candidates, with nearly a million netizens voting online. Totally 22 tourism experts, senior tourism media and business travelers served as professional judges. "The Tourism Service Award" actually checks the service levels and innovation abilities of the Chinese tourism industry. It focuses on the hotspots of the industry and emerging players, making it carrying a more forward-looking and guiding nature. This the award is known as the vane of the Chinese tourism industry.
Mr Ning Siyuan, General Manager of Qingdao Wanda Meridien Hotel, attended the ceremony. In an interview, he explained the hotel's unique characteristics of personalized service, innovation space featuring high-tech, and the high-quality and dynamic interaction between the hotel and guests. This award marks the third well-know industry honor for the hotel within this year, following "the Best Conference Hotel Award" selected by the New Travel magazine, and "the Top 100 Best Hotels in China" by the Private Geographymagazine.