Grand Opening of Taizhou Wanda Plaza
Dec 09,2011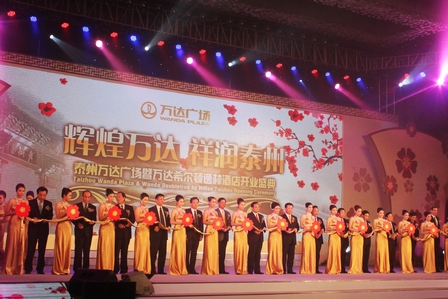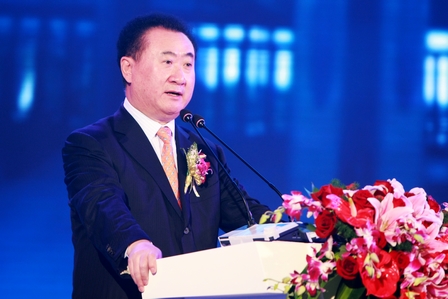 Chairman Wang Jianlin Spoke on the Opening Ceremony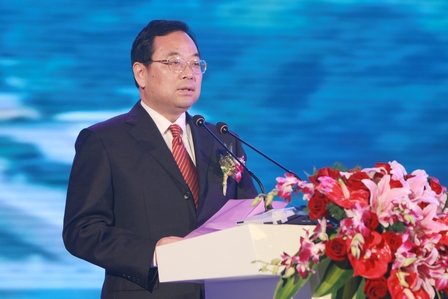 Zhang Lei, Taizhou Municipal CPC Secretary, Spoke on the Opening Ceremony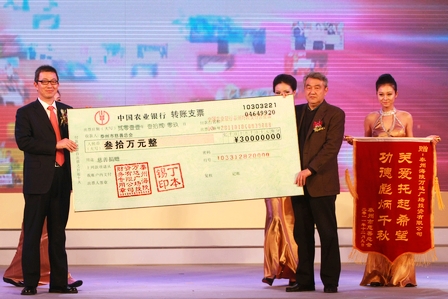 Wanda Group Donated RMB 300,000 to Taizhou Charity Federation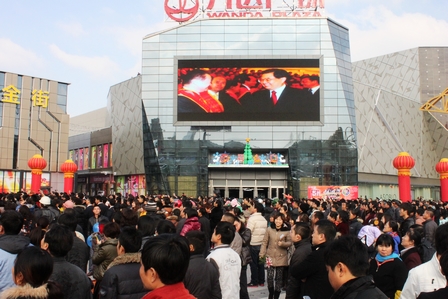 Crowds at Taizhou Wanda Plaza
On December 9, 2011, Taizhou Wanda Plaza welcomed crowds of people, who gathered with excitement and joy to jointly celebrate the grand opening of Taizhou Wanda Plaza. Mr Zhang Lei, Taizhou Municipal CPC Secretary, Mr Xu Guoping, Mayor, Mr Zhang Aiping, Secretary of Taizhou Municipal CPC Politics and Law Committee, Mr Yang Feng, Executive Vice Mayor, Vice Mayors Dai Shengli, Jia Chunlin, and Liu Li, Mr Lu Peimin, Secretary-general of Taizhou Municipal CPC Committee, Mr Wang Hongwei, Vice Chairman of Taizhou Municipal People's Congress, and Wanda Group Chairman Wang Jianlin, attended the opening ceremony and cut the ribbon. By convention, at the opening ceremony, Wanda Group donated RMB300,000 to Taizhou Charity Fund.
Taizhou Wanda Plaza is located in the core area of Taizhou city, surrounded by Hailing South Road, Qingnian South Road, Jichuan East Road, and Tong Yang Canal. This area features mature supporting facilities and represent the most dynamic popular sector in Taizhou at present. The Plaza integrates commercial, business, entertainment, office, living functions, while embracing a large commercial center, a five-star hotel, Class A office building, and high-end residence. It is by far the largest urban complex in Taizhou. The commercial center houses Vans Department Store, Wanda Cinema, Gome, Carrefour, Superstar KTV, Big Player Game City, ZARA, Starbucks, along with hundreds of franchise stores, of which about 50% made their debut in Taizhou. The Wanda Plaza, after being operational, will integrate clothing, food, travel, shopping and entertainment, meeting the maximum extent the "one stop" consumer demand of Taizhou residents, and become the largest commercial center that blends the most prosperous resources in the city.
Taizhou Wanda Plaza has set a new benchmark in Taizhou, in terms of scale, quality, varieties, and functions, filling a gap in Taizhou's large commercial centers. The Plaza also effectively integrates the original backward scattered business layouts, creating the largest and most prosperous business circle in Taizhou. Meanwhile, the Taizhou Wanda Plaza will create tens of thousands stable jobs for the city, and generate a revenue of hundreds of billions yuan each year. Thus, it will greatly promote the economic and commercial growth of Taizhou.