Wanda Plaza Chinese Super League Carries Out Awards Ceremony
Dec 13,2011
December 10, 2011 - The Wanda Plaza Chinese Super League (CSL) annual awards ceremony was carried out in Guangzhou.Cai Zhenhua, deputy director of the General Administration of Sports, and Wei Di, vice chairman of the Chinese Football Association, attended the celebration. Wanda Group Corporate Culture General Manager Shi Xueqing attended the awards ceremony on behalf of the Group. CCTV Sports and Beijing TV's Sports Channel both featured live broadcasts of the event. Shi Xueqing made a short speech congratulating the representatives of the winning companies.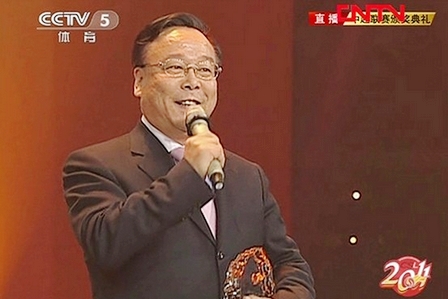 He warmly and cordially congratulated the winners on behalf of Chairman Wang Jianlin and all of Wanda's 50,000 employees. At the same time he used the broadcast to send Wanda's greetings to viewers and fans throughout the world. He said that based on statistical data, since July 6 of this year when Wanda Group added the "Wanda Plaza" name to the Chinese Super League, the league's average attendance has increased by 30%.Following an round of improvement and reform of Chinese football, the league has become healthier, cleaner, and fans' enthusiasm has been re-ignited. The overall image of Chinese football, especially the sport's overall credibility has been restored, he said, which are cause for celebration.
While discussing the Wanda Group's collaboration with the Chinese Football Association in youth football, he said: "The Youth League Tri-Cup which is sponsored by the Wanda Group, will begin its launch next year; under the guidance of the Chinese Football Association, the Star of Hope football team, which will be operated by the Wanda Group, will start within the year, sending youth of promise to play in the best clubs of Europe's top leagues."
Finally he stated that he hoped that China's business community can work together with the Wanda Group to promote youth football and school football programs. He also stated that he hoped that those in the audience not just watch football, but also get onto the field and play while encouraging their children to also play. Shi Xueqing's reflections were greeted by bursts of applause, and were a highlight of the awards ceremony.
A referee from Beijing Sports University, Tan Hai was awarded the Golden Whistle Award. Upon receiving the award, Tan Hai stated: "In receiving this award today there are many things that I want to say, and many feelings that I want to express. First, I want to thank the fans who put their trust in me and encouraged me over all these years. I also want to thank the Chinese Football Association and Beijing Sports University. Finally special thanks to the Wanda Group for all their selfless support of the work of China's soccer referees."He stated that he will overcome all pressure to earnestly fulfill his role in enforcing the rules of the game in a fair and impartial way.