"China's Future Soccer Star" Registration Boomed
Jan 15,2012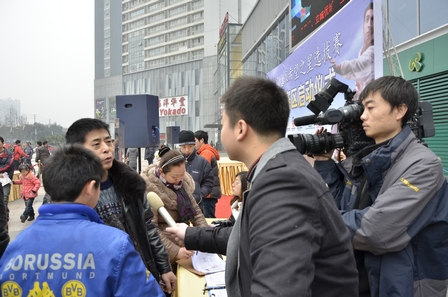 15th Jan 2012 was the first day of registration for China's future soccer star, held at Wanda Plazas in 15 cities including Beijing, Shanghai, and Guangzhou, flooded with young soccer players and their parents who came for registration and consultation. According to statistics, as of 5pm 15 Jan 2012, even though the Winter Holiday has not started for some Southern cities, over thousands of young soccer players and parents have started to flood the registration points for on-site consultation, with close to 200 young players registered on that day according to regulatory requirements.
Since the new was announced on 18 Dec 2011, the "China's Future Soccer Star Study in Spain" activity has attracted widespread attention, registration form downloads from Wanda Group's official website and Sina, the event's strategic partner, had exceeded 13,000 downloads, with incessant consultation phone calls at every registration venue, receiving many activity suggestions in the activity consultation mailbox. The selection activity attracted widespread media attention with competitive reporting between media companies. Just on 15th Jan 2012 which was the first day of registration, CCTV, Sina, The Beijing News, Beijing Times, Sichuan TV, and Chengdu TV were already swarming the venues to report the frenzy.
On 15th Jan 2012, a launch ceremony was held at the Chengdu-situated registration point at Wanda Plaza along Jinhua Road, Chengdu event ambassador Qun Wei attended the ceremony, encouraging the young soccer players to take part in the selection exercise. The atmosphere at the ceremony was an eruption of excitement, with over hundreds of parents there for the consultation. To add, there were reports of parents of young soccer players who came all the way from Yunnan to Chengdu to register.