Wanda's Sales Revenue Exceeded RMB 100 Billion in 2011
Jan 15,2012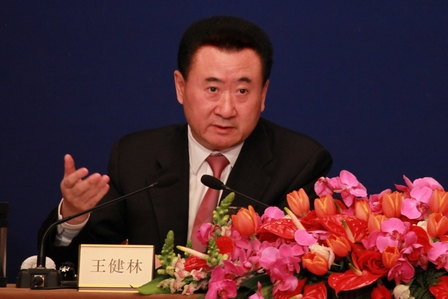 On 14 Jan 2012, Dalian Wanda's 2011 work summary and commendation conference was held at Beijing Sofitel Hotel. The Group's leaders, departments and offices, system headquarters, plus general managers and executives of companies all over China attended the conference. It was also attended by 47,000 Wanda staff nationwide through the video broadcast system.
Chairman Jianlin Wang made an important speech, overall summarizing the Group's 2011 work results, and assigned work for 2012. In 2011, Wanda Group's exceeded targets set by indicators with corporate assets reaching Rmb 195 billion and revenue reaching Rmb 105.1 billion, both breaking a Rmb 100 billion record high. The businesses of Wanda Group was outstanding, where Dalian Wanda Commercial Properties realized Rmb 95.3 billion of sales revenue (+38.9% YoY), Rmb 81.4 billion of cash reimbursements (+32% YoY), Rmb 50bn of post completion occupancy income (+33% YoY), total construction area of 31,080,000 square meters (+37.6% YoY), new housing starts of 13,270,000 square meters (+24.9% YoY), real estate rental income of Rmb 3.43 billion (+77% YoY). As of end-2011, Dalian Wanda Commercial Properties has 9,030,000 square meters of business property, making it a world class real-estate company.
Awards were given to advanced groups, excellent executives and staff, excellent communications companies and excellent communications staff, where the advanced representatives gave an introduction of their experience, followed by a grand cultural performance.
On 15thJan, all participating staff were systematically separated into many sub-venues, where there were discussions o