Wanda Ranks First in Luxury Property Management
Jan 18,2012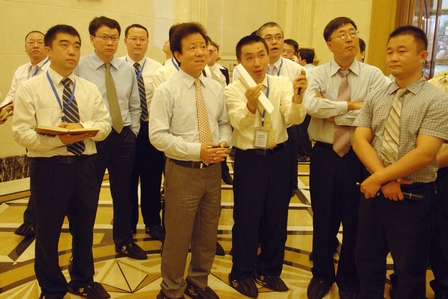 President Ding Benxi, Vice President Sun Jiquan and Qu Dejun at Wanda Mansion projects
Internationally renowned real estate consulting firm Jones Lang LaSalle conducted a six-month evaluation between July 2011 and January 2012 on the management of Wanda's range of luxury properties. In its final assessment, Jones Lang LaSalle ranked Wanda Group first in China in terms of its standard of luxury property management and service.
Based on common industry standards, the evaluation incorporated the evaluation system developed by Jones Lang LaSalle using the industry-leading experience that the company has been accumulated over the years. On-site evaluation was carried out using 265 indicators from nine major dimensions on five Wanda luxury properties (Beijing Lake Palace, Dalian Pearl, Dalian Wanda Mansion, Jinan Wanda Mansion and Wuhan Jiyuqiao Wanda Mansion Marketing Center) in three periods, namely the operation, occupation and sales periods. Jones Lang LaSalle also conducted a benchmarking study at the same time by looking at the management of close to 20 representative luxury properties across five Chinese cities. Its conclusion was that Wanda Group ranks first in China in terms of its standard of luxury property management and service and that the Group has a clear advantage in manager image and etiquette, community activities, special services and rapid response to owners' needs. Unlike third-party management, Wanda's luxury properties are all self-managed and there is immense developer's support, which ensures that the properties maintain a high level of service and management quality.
The Wanda Mansion range of luxury properties is the focus of mid-priced luxury investments in Wanda's developments and there are currently 14 such projects across 11 Chinese cities that are occupied or under construction. While ensuring that the Wanda Mansion range of luxury properties is top notch in the country in terms of hardware, the Wanda Group also pays great attention to ensure that these properties are supported with first-class luxury property management, offering owners a well-rounded and distinguished living experience.
Jones Lang LaSalle is a leading real estate investment management and service company in the industry and it was named the top real estate consulting company in Asia Pacific in the year 2011.