Grand foundation stone laying ceremony of Chengdu Jinniu Wanda Plaza
Feb 28,2012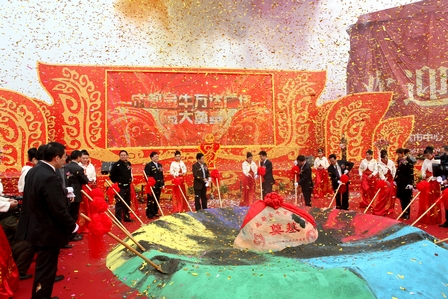 On 25 Feb, the grand foundation stone laying ceremony for Jinniu Wanda Plaza, located at the intersection of Yihuan Road and Renmin North Road, was held at the project worksite. Key city and district leaders such as Tang Gongli, the deputy secretary general of Chengdu Municipal Government, and Su Peng, the deputy secretary and mayor of Jinniu District, were invited. Qi Jie, Vice President of Dalian Wanda Commercial Real Estate Co, attended and spoke during the ceremony.
Jinniu Wanda Plaza is located at the core area in Beiyihuan, Chengdu city. The project blends different businesses into one – large shopping centers, fashion streets, grade A offices, SOHO apartments, and high-end residence. This project is another Chengdu masterpiece by Dalian Wanda, following a string of successes such as Jinhua Road Wanda Plaza, Chengdu Garden, Impression of Riverside and Hotel Sofitel Wanda, and will become one of the largest urban complexes in the West region to Sichuan.
In the future, Jinniu Wanda Plaza will create a commercial, lifestyle and business centre using a brand new business model that brings vibrant enjoyment and lifestyle excitement to the urban residents of Chengdu. At the same time, the project will comprehensively promote commercial upgrading while driving urban development forward, and will improve the brand and image of the city, bringing widespread boom to the Chengdu economy, and pushing Chengdu towards becoming "modernized world-class garden city" quickly.