AMC returns to profit after acquisition by Wanda
May 14,2013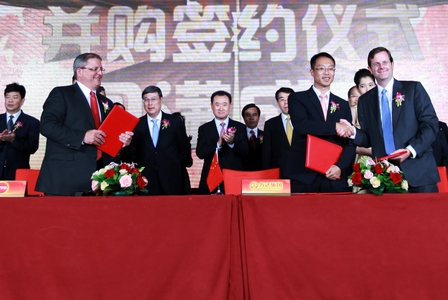 Officials shake hands at the signing ceremony of the merger and acquisition agreement between Wanda Group and AMC Entertainment on May 21, 2012.
In less than a year after being acquired by Wanda Group, American theater chain AMC appeared to be getting back into black ink after three years of loss.
AMC made net earnings of $58 million in 2012, recovering from a $240 million loss on revenues of about $2.4 billion in 2011, according to a financial statement released on AMC's website in March.
Wang attributes the rebound to the management adjustments in a recent interview with China Business: "After the acquisition, I made several adjustments. I sent a liaison officer to AMC to report its daily information to Wanda to keep us updated; I set aside 10% of AMC's profit as bonus for managers as an incentive; Moreover, AMC's managers had to sign a four-year contract with clear goals."
Wanda Group purchased AMC's entire stake and inherited its debt with $2.6 billion under an agreement signed last May. The merger made Wanda the world's largest cinema operator.
Talking about the purchase of European cinema lines which attracted much attention, Wang told the reporter that the process is temporarily stalled in regard of the confidentiality agreement.
"But Wanda will expand its global business unswervingly and will finish one or two acquisitions within 2013," Wang told the reporter.
Wall Street Journal said in a report last month that Wanda Group has shown interest in at least two of European largest chains, Odeon & UCI Cinemas Holdings Ltd. and Vue Entertainment Ltd., both based in the U.K. and with thousands of screens in multiple countries. There are other European chains that Wanda could target as well, according to the report.