Wanda's Beijing Love Story hosts premiere ceremony
Feb 11,2014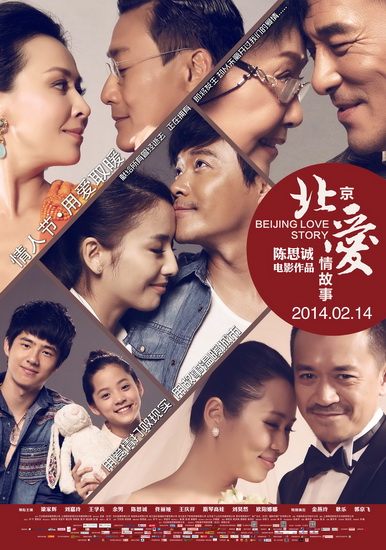 Beijing Love Story, the first film by Director Chen Sicheng, held its grand premiere ceremony at the Sofitel Wanda Beijing Hotel on February 10.
Director Chen Sicheng was accompanied by a star-studded cast that included Tony Leung, Carina Lau, Wang Xuebing, Yu Nan, Tong Liya, Wang Qingxiang, Elaine Jin, Guo Jingfei, Liu Haoran and Ouyang Nana.
The film was produced and released by Wanda Media Co Ltd in collaboration with Shanghai Chengya Entertainment Co Ltd, Emperor Entertainment (Beijing) Ltd, JCE Movies Limited, Zhejiang Blue Star International Media Co Ltd, Zhejiang Lantianxia Entertainment Co Ltd, Beijing Notting Hill Cultural Broadcasting Co Ltd and GDAD Hizone (Beijing) International Media Advertising Co Ltd.
The film will make its official screening in cinemas across China at 2pm on February 13, one day before Valentines Day.